SmartGuide : Home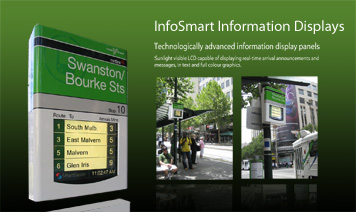 SmartGuide Pty Ltd is an Australian technology developer / integrator, specialising in the field of Intelligent Information Systems, creating solutions that are extremely robust, high quality and reliable.
At SmartGuide we are able to achieve these results by working with your company to analyse your specific requirements. From this important beginning SmartGuide can develop a system to meet your needs.
Whether it is an adaptation of a system we have previously developed or if you require something that is different to what's out there in the market, SmartGuide can, as technology developers and integrators, develop and deliver a complete functional solution for you.
Our core technologies are based on modular hardware and adaptive, artificially intelligent software systems, with strong focus being given to scalability and cost-effectiveness.
SmartGuide has produced packaged solutions for:
Outdoor Information Displays
Passenger Information Displays
Bus, train and tram prediction arrival systems
Web Content Management System
Predictive Algorithms
Electronics Integration
Remote Public Announcements

Radio Frequency (RF) Communications
3G, 4G and GPRS Communications
Intelligent Transport Systems
Vehicle fleet tracking and management systems
Real-time ticketing systems
Media Players
as well as technologies in several other areas
In addition to our commercial sector sales, SmartGuide has won large-scale Government contracts for the deployment of our technologies across the city of Melbourne, Australia.
We are an innovative company, continually developing solutions with the view to meet your company's individual needs. Please call us to discuss how we can help you.